Applicon on Twitter
[2011-08-10]
Are you following us on Twitter yet? If not, you are missing the action. We tweet our opinions about the industry, tweet from our production site, twitpic pictures of our installations, our data center, screenshots and people. We also tweet out our emotions.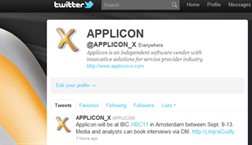 It is easy to bump into us if you are regularly checking for Twitter hashtags like #payment #charging #convergentcharging #billing #VAS #voucher #topup #convergence #ecosystem and our own hashtag #appealingconnections.
Although sometimes disregarded by the B2B companies we believe Twitter is a great place to present not just the regular content of our activities and offer but also to disclose the real heart of the company, explain its philosophy, demonstrates its culture and care. Twitter already helped us to establish some first time contacts with bunch of extraordinary people who are now either our partners or clients or employees and it is not enough. We want more! And we are here: @APPLICON_X.