Applicon at 5th CEED Regional Conference, 19th and 20th May, Bled, Slovenia
[2011-05-17]
This year's conference "Business Game Changers & What you need to know" will highlight where business trends are heading globally and the opportunities they present for entrepreneurs in the region.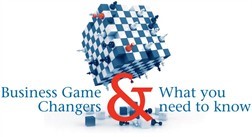 We are in a time when changes are happening in the market. Business models are changing, advancement of technology is influencing business and new opportunities are presented.
Applicon will be at the conference sharing our story and experience. We will be talking not only how we are changing the game, but also how we reinvented the whole new game with our rules.

Join us on entrepreneur's spotlight at Bled and take the centar stage with us.
For more information about the CEED conference please visit official pages.